Remy Ma ate up all the girlies in a fire orange satin look worn over the weekend. Attending Fat Joe's 53rd birthday yacht party, the Terror Squad emcee stunned in a sultry feminine look that we can't stop thinking about.
Remy Ma was one of many A-listers out and about in Hudson Yards to celebrate the Hip-Hop legend. With a reported price tag of $100 million this year, Fat Joe's birthday soirée is known to be among the most highly anticipated. In 2022, the Queen of Hip-Hop Soul herself, Mary J. Blige, "headlined" the event with a performance at Time Square's Brooklyn Chop House.
This year's soiree was no different.
Celebrities spotted included Remy Ma, Lil Kim, Jim Jones, Mary J. Blige, and Styles P. Artists Baby Face and Stephanie Mills also attended and performed during the event. 
In picture after picture of Fat Joe's occasion, Remy Ma's orange look remains one of the stand-out slays from the night. Remy Ma's aura was on "I look fly … I look good."
Remy Ma's Orange Details
The fashionista paired a $215 slinky Honey Birdette orange dress that hugged her frame with detachable gold chains. Her hair was in soft romantic dark curls that complimented her face. 
Following the event, the 43-year old artist took to Instagram showing off her fly. Her 10.6M followers couldn't get enough. "Serving that color on our skin signed – MELANIN," said one fan." YESSSSSS MUVA This is Giving all that is Supposed To Give and More," said another.
A resort-style dress, Remy Ma's look is perfect for the end of summer. Bright colors like oranges, yellows, and reds compliment melanin skin flawlessly. They are the cheat code for popping out "brand new" and making a statement whenever you walk out the door. 
Because Remy Ma's orange lewk now lives rent-free in our head, we've pulled options for you to make it your own. As you plan Labor Day outfits and last-minute travel ensembles, these dresses are orange must-haves you may need to 'add to cart' now.
Keep scrolling for the slay.
Remy's Pick
Remy's pick of the night was perfect for a soiree at sea. Available now, the dress doubles as a swimsuit cover up and retails for $215.
Short and Sassy Option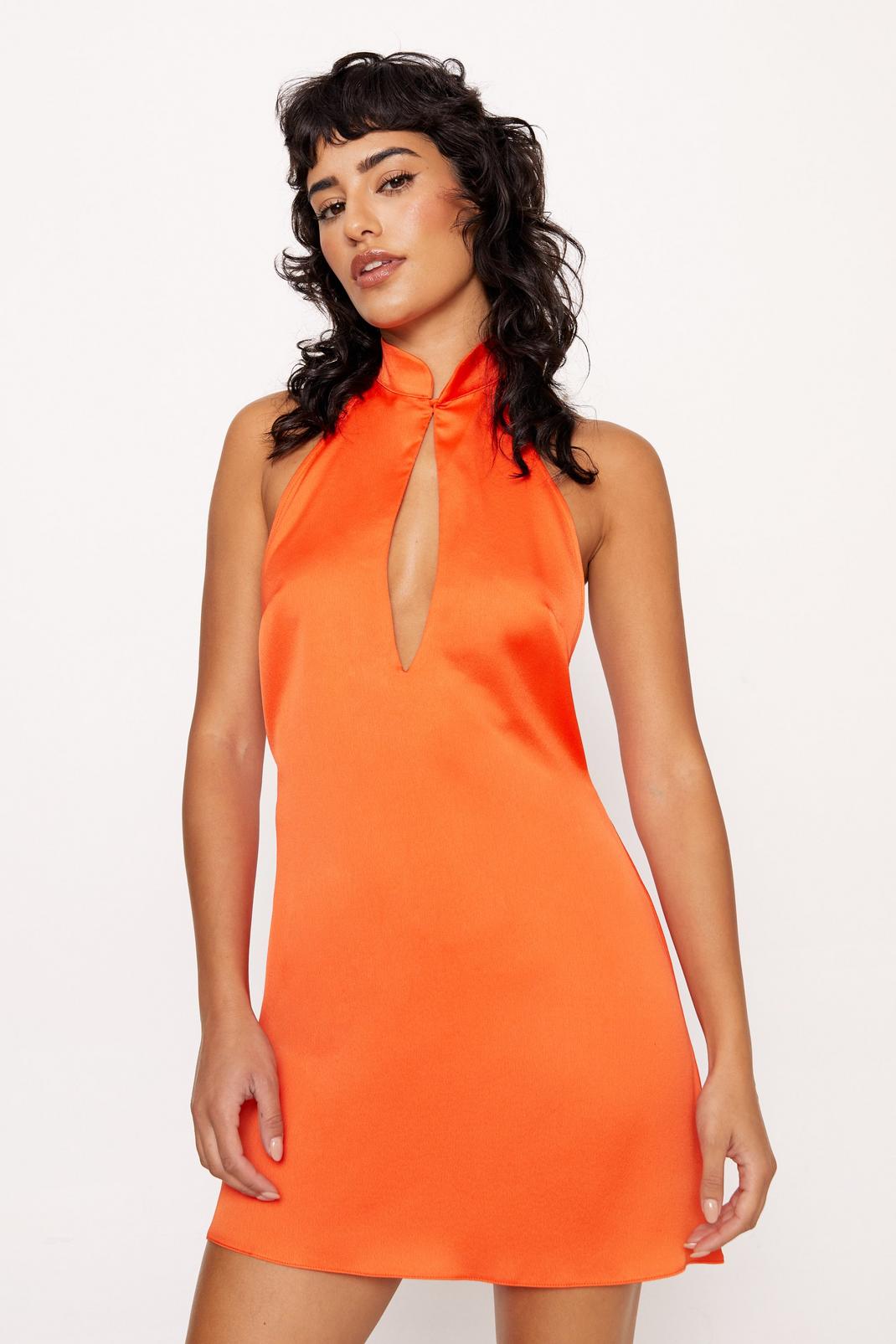 Keep it fun, flirty, and feminine in this mini-dress option from Nasty Gal. The dress retails for $38.50.
Let's Hear It For The Back Of The Dress
Not for the shy gal, this dress is all about the back. A breathable slinky jersey dress, this option will turn heads from the front to the back. With fun tassels, the dress retails for $35.44.
Melaninated From A Melanin Designer
The Clara Knit dress is a perfect option for the fashion slayer who wants to add a little more drama and color. An option for those "non-satin lovers" as well, the knit dress is by Black designer Hanifa, runs up to size 3X, and retails for under $300.
Orange Mermaid
NY-based online boutique Rebdolls has a cute option in a mermaid style. While this dress is more modest in the front, the hip-hugging fabric and stretch will highlight all the curves. This dress retails for $62.48.
Fashion Nova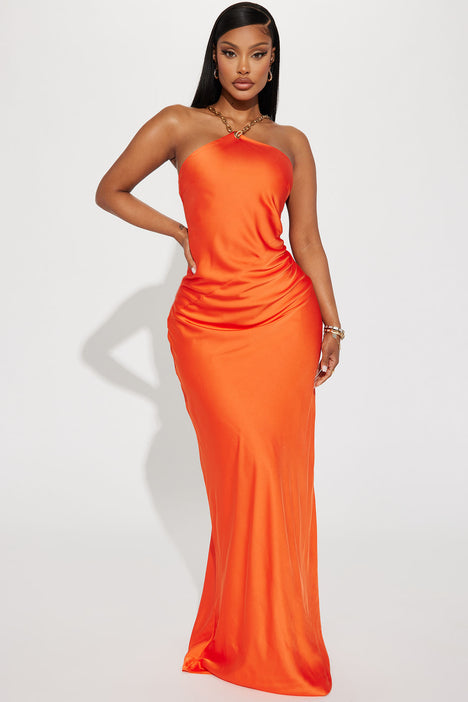 This is your moment to shine in this Fashion Nova satin gown. With gold chain details in the front and back, it is a perfect way to recreate this look. This dress retails for $69.99.
RELATED
Get The Look: Remy Ma Heats Up The End Of Summer In An Orange Look We Love  was originally published on hellobeautiful.com