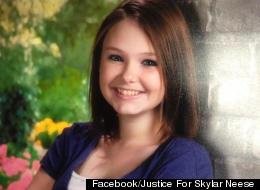 STAR CITY, W.Va. — For nearly nine months, the people of this small West Virginia town saw the face of missing 16-year-old honors student Skylar Neese everywhere – beaming at them from fliers on utility poles, in gas stations, even at the local tattoo parlor.
She had been missing since she slipped out of her bedroom window one night last summer, but some in this town of fewer than 2,000 people never believed she had run away.
Police chased numerous leads with no luck. The break finally came when one of Neese's friends admitted plotting with another girl to kill her – shocking even the investigators working the case.
The two girls were charged with luring the straight-A student at University High School out of her family's apartment in the middle of the night, stabbing her to death at an agreed-upon moment and hiding her body under branches in a Pennsylvania township about 30 miles away from her house, according to court documents.
The pair – one of whom has now pleaded guilty – had spent time with Neese's mother after the slaying and even helped with the search.
The cold calculation and brutality of the plot shocked a community already frustrated by the slow pace and secrecy surrounding the case. Investigators have said little since announcing the charges three weeks ago. Court documents offer no insight into the motive.
People sit in the chairs at John's Barber Shop, gaze at Neese's photo on a bulletin board and wonder: How could anyone so young plot to kill a classmate and friend?
"They look as normal as any other kid that you could ever see," said barber BJ McClead. "Not kids you would think would have anything to do with anything like this."
A newly released transcript of a secret plea hearing reveals that 16-year-old Rachel Shoaf said she and the second girl carried out a plan to kill Neese. READ MORE
RELATED::Little Known Black History Fact: The All-Black Rangers
RELATED::Nurse Arrested For DUI In School Parking Lot [VIDEO]