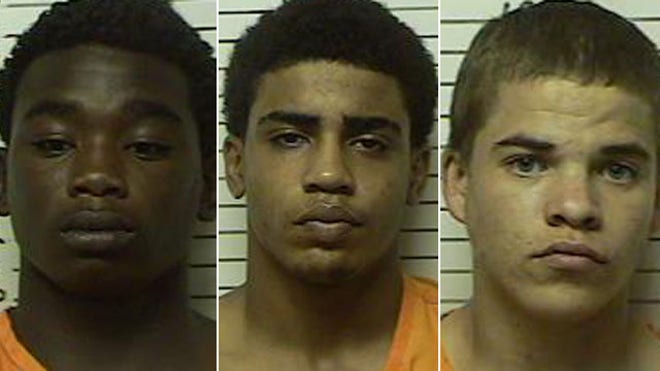 Prosecutors on Tuesday charged two teenagers accused of gunning down an Australian student in Oklahoma for the "fun of it" with first-degree murder, and a third teen with being an accessory.
Officials say 22-year-old Christopher Lane, who was visiting the U.S. on a baseball scholarship at East Central University, was jogging along a road in Duncan, Okla., after visiting his girlfriend on Friday when he was shot in the back, allegedly by the teens.
Terri Moore from the Stephens County Courthouse says 16-year-old Chancey Allen Luna and 15-year-old James Francis Edwards Jr. were charged as adults with first-degree murder. Both are being held without bond.
Bond was set at $1 million for 17-year-old Michael Jones, who allegedly drove the vehicle carrying the other suspects. He was charged with the use of a vehicle in the discharge of a weapon and accessory to murder after the fact. Jones is considered a youthful offender but will be tried in adult court.
Prosecutor Jason Hicks called the boys "thugs" in court, saying Luna was sitting in the rear seat of a car when he pulled the trigger on a .22 caliber revolver and shot Lane once in the back. Hicks said Jones was driving the vehicle and Edwards was in the passenger seat.
Edwards has had run-ins with the law previously and had been in court Friday, the day of the killing, to sign documents related to his juvenile probation. SEE VIDEO HERE
RELATED::Magic 106.3 Welcomes New Staff Member
RELATED::Tia Mowry Reveals Why She Refused To Have Sex With Hubby Cory Hardrict For A Year