The 88th annual Academy Awards came and went, but not without enough awkward moments to keep us chatting until lunchtime. From red carpet faux pas to directors chopping down their competitors with mean side eyes, here's all the memorable moments from Hollywood's biggest night (and some moments you may have blinked and missed).
1. Beauty Site Mistakes Whoopi For Oprah
Because, ya know…all Black people look-alike. Beauty website TotalBeauty.com found itself questioning its social media staff after someone tweeted a photo of Whoopi Goldberg with the caption, "We had no idea @Oprah was #tatted, and we love it…"
The tweet has since been deleted and they, of course, apologized.
We'd like to apologize to Oprah and Whoopi, as well as everyone we've offended. It was our error, and there are no excuses. We're sorry.

— Total Beauty (@TotalBeauty) February 29, 2016
//platform.twitter.com/widgets.js
Meanwhile, Oprah, who wasn't even at the Oscars, caught the snafu and responded on her bestie Gayle King's Instagram.
2. Stacey Dash Is One Big FAIL
Chris, we were rocking with you until you gave Stacey Dash her only opportunity to EVER touch an Oscar's stage. The clueless beauty made an appearance to give the Black community one last f*ck you and wish us a happy Black history month. Ma'am, sit yo a*s down. Fail. Fail. Fail. We hope Charlamagne gives her donkey of the day.
The Internet's reaction:
3. Sacha Baron Cohen Is The "Token Black Presenter"
Sacha Baron Cohen thought it was a good time to resurrect his character Ali G on a night when the Academy was being taken to task for the lack of diversity at this year's show. After joking about being "another token Black presenter," he joked about the "little yellow people" (minions) also being overlooked for their hard work. Because Black actors, actresses and filmmakers should be compared to little bald-headed cartoons. OK. Fail.
4. Alejandro González Iñárritu Shades Costume Designer?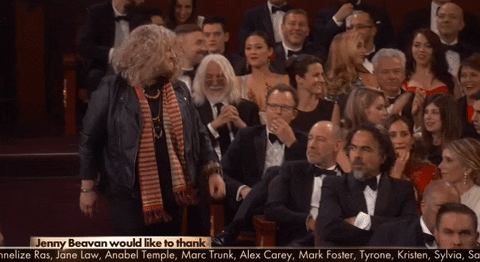 If looks could kill.
Surprisingly, Alejandro González Iñárritu's The Revenant scored less Oscar wins than Mad Max: Fury Road. As Jenny Beavan, costume designer for the post-apocalyptic sh*t show, walked to the stage to accept her Academy award for a job well done (no one can deny that) Alejandro can be seen giving her a mean side eye while Hollywood just stares at her as she walks, because clapping would be beneath them.
Come on Alejandro, you can't win them all. Don't be a sore loser. Fail.
5. Colin Gibson Chalks His Award Up To Diversity
Sigh. White people still don't get it. "It" being the whole diversity thing. Sir, the whole point of your speech is ass backwards because there were diversity in the Oscars, all the South African people and people who make you look "competent" on a daily basis, would be nominated for their respective roles.
We accept Alejandro González Iñárritu, who too made a bold claim about diversity in his acceptance speech, because he is a minority and beat incredible odds to become the Academy award-winning director he is today. Colin, my friend, you are apart of #OscarsSoWhite, so sit down.
6. White People Clapping At Slavery Jokes
Chris Rock didn't sugarcoat the big Black problem with this year's Oscars awards. So much so, he even joked about slavery and our ancestors hanging from trees and being lynched, making White Hollywood so uncomfortable they clapped and laughed. Now I don't know about you, but slavery isn't funny. Chris Rock was making a point, but they clearly missed it.
RELATED STORIES:
Chris Rock Rips Hollywood In Opening Monologue + The Oscars Blackest Moments
Trend Report: A Stance Between Black And White At The 2016 Academy Awards
SOURCE: HelloBeautiful.com
Article Courtesy of Hello Beautiful
First, Second, and Fifth Picture Courtesy of Getty Images and Hello Beautiful
Third Picture Courtesy of Instagram, Twitter, and Hello Beautiful
Fourth Picture Courtesy of Instagram and Hello Beautiful
First Video Courtesy of Instagram, Oscars, and Hello Beautiful
Second and Third Video Courtesy of YouTube, Oscars, and Hello Beautiful
Tweet Courtesy of Twitter and Hello Beautiful
Gif Courtesy of the Oscars and Hello Beautiful
2016 Oscars Fails: Whoopi Mistaken For Oprah; Stacey Dash Makes A Fool Of Herself & More  was originally published on wzakcleveland.com