All The Life Lessons We Learned From The Kids On 'Blackish'  was originally published on hellobeautiful.com
1. Life Lessons We Learned From 'Blackish'
ABC's Black-ish is a true comedic gem. Even though the Johnsons are living the 'American Dream,' the family is still grappling with how to handle racial issues in a modern world. The Johnson kids steal the spotlight as they attempt to find their footing in their household and in the outside world. Within these episodes, […]
2. Spanking Isn't The Only Way
Bow and Dre Johnson learned that spanking their children for lying solves nothing. Instead, the kids taught their parents that discipline should vary from household to household and what works for one won't work for all.
3. It's OK To Be Yourself
Dre's sister, Ronda, is hesitant to reveal that she's a lesbian to their mother. The kids seem to be aware that their aunt is attracted to the same-sex, but don't treat her any differently. In accepting their aunt as she is, the Johnson kids remind us all that it's okay to be yourself.
4. Stand Up For Yourself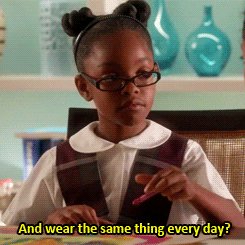 The kids are used to getting punked by their "hood cousins" on holidays. On Halloween, though, they decide to fight back much to their parents dismay. They learn in the process though that words hurt, and sometimes, it's better to be the bigger person.