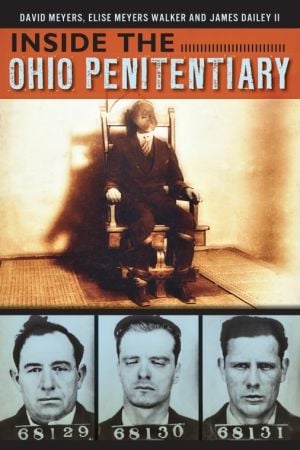 COLUMBUS — After becoming interested in prison history during his own prison stay, James Dailey II, owner of the largest private collection of Ohio prison memorabilia, decided to share the history of a Columbus prison in a recently published book.
"I've always known I was going to share the material," Dailey said.
He contacted his co-authors, father and daughter, David Meyers and Elise Meyers Walker after he read their book, Central Ohio Historic Prisons.
The three co-authored Inside the Ohio Penitentiary,which tells the story of the prison that was located in downtown Columbus from 1834 to 1998 where the Arena District is now located.
David Meyers worked as a psychologist at the prison from 1972-73. He said it was shortly after the death penalty was banned in Ohio and he mostly dealt with inmates who had just been taken off death row.
Between 1885 and 1963, 343 prisoners were executed by hanging and the electric chair. In 1972, Ohio's death row was moved to the Southern Ohio Correctional Facility in Lucasville. The penitentiary closed in 1979 and was demolished in 1998.
The book was published through The History Press and went on sale July 16.
Dailey said among his collection of memorabilia, he has a photograph of the first women executed at the prison and another of the governor denying her clemency report.
He said all the stories in the book are paired with an illustration from Dailey's collection.
"We went with the most compelling stories. Some are well-known, some are not," Dailey said.
Meyers said one story he wanted to include was James Brown, who was an inmate at the prison in the 1860s and was the first person identified as a vampire.
"We have much more than in any other book. [Brown] went from being your run-of-the-mill murderer to a vampire legend," Meyers said.
Walker said informing people in Ohio and elsewhere about the true history of the prison was an important part of the book.
"We are really impressed by how fast history was forgotten. One generation knew something and didn't tell the next and it just faded," Walker said.
The penitentiary was located in what is now the Arena District in Columbus. Where the Lifestyle Communities Pavilion currently sits was home to the worst prison fire in America history, which happened at the prison in April 1930. Three hundred fifty-five people were killed.
Dailey said the book is more about people than it is about a prison.
"There is a stigma of being in prison. I think by taking an objective view and talking about it gives an aerial view of people immersed in their own chaos," Dailey said.