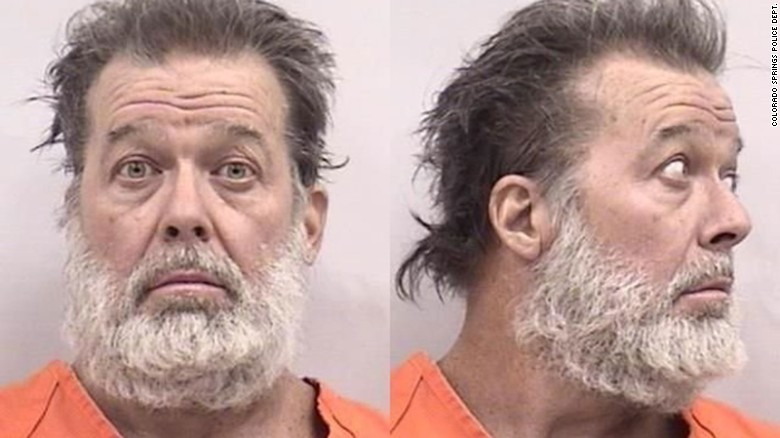 Robert Lewis Dear has had a history of being charged with crimes in different states, though never fully convicted.  The deaths have only increased the hostility towards the health organization.
COLORADO SPRINGS– District Attorney Dan May said 179 felony charges have been filed against Robert Lewis Dear in the killing of three people, including a police officer, at a Planned Parenthood clinic in Colorado Springs, Colorado.
Dear interrupted a Wednesday court hearing with at least 17 outbursts. Dear said, "I am guilty. There is no trial. I am a warrior for the babies." In a separate outburst, Dear said, "Protect the babies."
Prosecutors charged the 57-year-old with first-degree murder, which could carry a minimum penalty of life in prison or a maximum penalty of death if he's convicted.
Dear is accused of killing a police officer and two civilians in a shooting rampage on November 27. The closely watched case has already united even staunch opponents in the abortion debate.
Dear mentioned "baby parts" after the shooting and expressed anti-abortion and anti-government views, a law enforcement official briefed on the investigation said.
Investigators have not publicly disclosed a motive, but the mayor of Colorado Springs, John Suthers, said it can be inferred by the location of the attack.
U.S. Attorney General Loretta Lynch called it a "crime against women receiving health care services." Vicki Cowart, president of Planned Parenthood of the Rocky Mountains, was clear that she believes the shooter "was motivated by opposition to safe and legal abortion."
Nine people were wounded in the rampage, which brought common ground between Planned Parenthood's leadership and conservative presidential candidate Mike Huckabee: Both called it an act of terrorism.
"I think there's a lot of belief that this qualifies as a form of domestic terrorism," Dawn Laguens, Planned Parenthood's chief experience officer, said.
Huckabee echoed that sentiment.
"What he did is domestic terrorism, and what he did is absolutely abominable — especially to us in the pro-life movement, because there's nothing about any of us that would condone or in any way look the other way on something like this," Huckabee said.
Official: Suspect had duffel bag with handguns, rifles
Dear surrendered after a nearly six-hour standoff.
At this point, investigators believe Dear acted alone, and they're working to interview witnesses and anyone he may have spoken with before the attack, the official said. So far, they haven't pinpointed why the Colorado Springs Planned Parenthood location was targeted or a clear motive, the official said.
They're also reviewing evidence found in and around the facility, the official said, including handguns and rifles Dear allegedly brought to the scene in a duffel bag and propane tanks investigators believe he planned to use as part of his attack.
The Planned Parenthood facility in Colorado Springs had protective windows, along with a safe room and closed circuit television surveillance video, common security practices adopted by the organization at facilities in recent years, another law enforcement official said.
Before the attack, a private security guard posted at the facility had left when his shift ended. Another security guard was scheduled to come in later that day, a Planned Parenthood official said.
"The staff at this health center were trained in security measures, and they acted swiftly and in accordance with their training," Vicki Cowart, President and CEO of Planned Parenthood of the Rocky Mountains, said in a statement. "They worked closely with law enforcement to prevent this tragedy from being far worse than it was."
READ MORE: Fox8.com
Article Courtesy of CNN and WJW Fox 8 News Cleveland
Video Courtesy of CNN and YouTube
Man Who Shot at a Colorado Planned Parenthood Facility Explodes in Court  was originally published on wzakcleveland.com