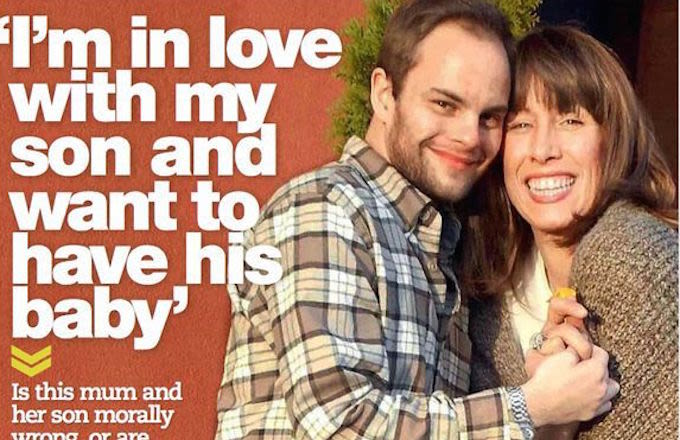 The news this week is filled with stories about people who should not be having sex. Just yesterday the teacher who admitted to having sex with a teenage student blamed the student's parents after an emotional trauma lawsuit was brought against her. Now an even more cringe-worthy and questionable sexual situation is making headlines. A mom and son who admitted to having an incestuous relationship have gone into hiding to avoid a possible 15 year prison sentence.
Kim West, 51, and Ben Ford, 32, admitted a few days ago that they had been in a relationship for two years in a UK-based newspaper New Day, the New York Post reports. The front page of the paper displayed a picture of the two embracing with the headline "I'm in love with my son and want to have his baby."
West gave Ford up for adoption a week after he was born because she was only 19 at the time. Nearly 30 years later in December 2013, Ford initiated contact with his biological mother when he sent her a note. They began exchanging phone calls after that, which is when West started to have sex dreams about her son. Concerned about her attraction, she came across an article online about Genetic Sexual Attraction (GSA), a theory that describes the sexual attraction family members who were separated at birth may feel for one another.
They finally agreed to meet in January 2014, which prompted Ford to leave his wife Victoria, telling her, "Every time I have had sex with you since I met her, I imagine it's her I am kissing, otherwise I can't perform."
READ MORE: Complex.com
Article Courtesy of Complex
Picture Courtesy of Facebook and Complex
Mother and Son Running From The Law After Admitting Sexual Relationship  was originally published on wzakcleveland.com