DUBLIN, Ohio – Two fast food employees were fired after posting a series of photos of what they said were their on-the-job activities on social media accounts.
Columbus Public Health is investigating the Subway restaurant inside the Turkey Hill gas station at 5350 Tuttle Crossing Blvd.
The lewd photos were shared on social   media websites, including Instagram, where the employees bragged about their exploits.
In one of the photos, a teen put his genitals on bread, and the other employee claims he froze his own urine in a bottle.
The photos came to light when someone e-mailed them to the Huffington Post.
The health department was alerted to the story Monday afternoon, as was the restaurant in question.
NBC4 has learned that the health department is investigating, and that the employees in question have been fired.
"People are just sick. I mean, you know you pay for good food you think you're getting good food and you're not, said customer Beth Redman, "Just knowing that I go through there a lot through the drive through, it's just yeah sickening."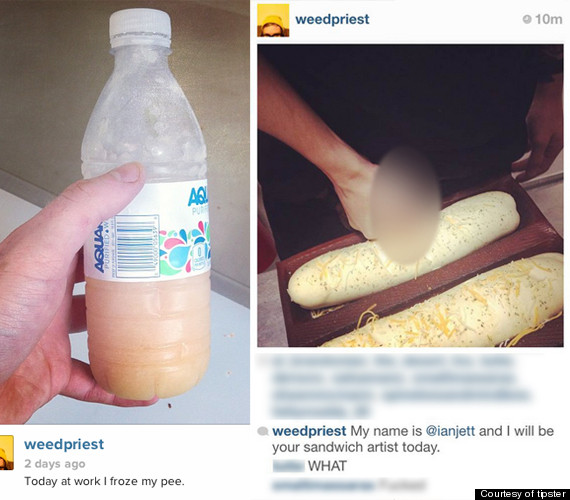 As of 6 p.m. Monday, the restaurant closed for the evening in order to disinfect all surfaces. The restaurant also discarded all of its bread.
According to online records with the health department, the restaurant has been inspected twice this year. In the latest record of inspection on April 9, there were no violations.
The health department is conducting a full investigation that could potentially lead to criminal charges. SOURCE
RELATED::Beyoncé's Hair Got Stuck In A Fan And She Played It Off Like A Total Diva
RELATED::Tyrese Tweets Frustration With Ginuwine Performance
Also On Magic 95.5 FM: