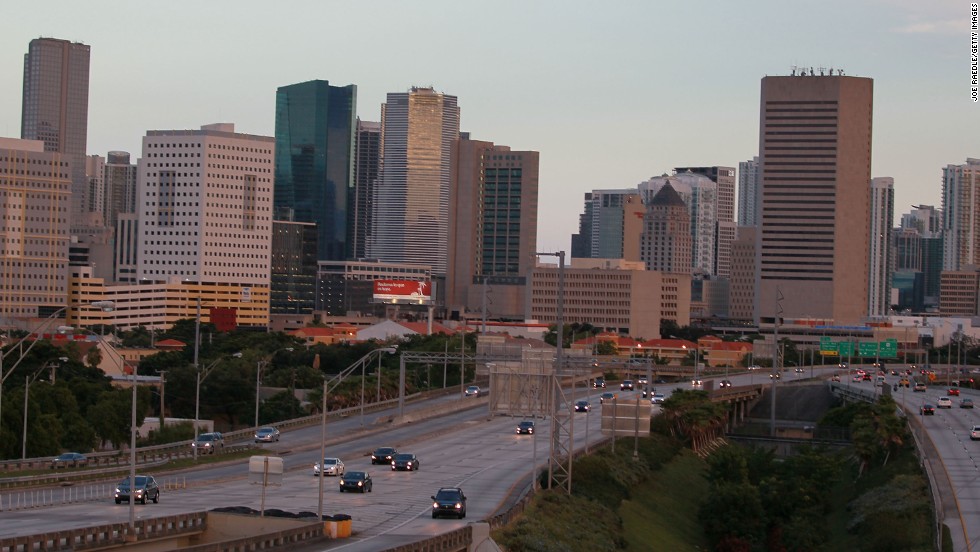 The Miami Police Department is investigating video of a police officer seemingly punching a handcuffed man that has gone viral since being posted to Facebook.
In the video, the officer can be seen arresting a man and putting him in the back of a police car before he seems to begin punching him.
The woman who took the video posted it to Facebook but asked not to be identified because the officer had ordered her to delete the video.
"We have seen the video and we have launched a full internal affairs investigation into the matter," Maj. Delrish Moss said in a statement. "We take that responsibility very seriously.  The officer involved in the incident will be relieved of duty as we investigate."
READ MORE: TheGrio.com
Article Courtesy of The Grio
Picture Courtesy of Getty Images
Video Courtesy of YouTube
Exclusive: @SamSylk In the Studio with Cleveland Mayor & Police Chief [Photos]
1. 14328299679978
Source:frank jackson wzak z1079
1 of 50
2. 14328297960205
Source:frank jackson wzak z1079
2 of 50
3. 1432829787069
Source:frank jackson wzak z1079
3 of 50
4. 14328297778062
Source:frank jackson wzak z1079
4 of 50
5. 14328297683084
Source:frank jackson wzak z1079
5 of 50
6. 1432829758198
Source:frank jackson wzak z1079
6 of 50
7. 14328297439591
Source:frank jackson wzak z1079
7 of 50
8. 14328297324356
Source:frank jackson wzak z1079
8 of 50
9. 14328297228704
Source:frank jackson wzak z1079
9 of 50
10. 14328297125274
Source:frank jackson wzak z1079
10 of 50
11. 14328297030455
Source:frank jackson wzak z1079
11 of 50
12. 14328296930953
Source:frank jackson wzak z1079
12 of 50
13. 14328296811793
Source:frank jackson wzak z1079
13 of 50
14. 14328296707674
Source:frank jackson wzak z1079
14 of 50
15. 14328296591951
Source:frank jackson wzak z1079
15 of 50
16. 14328296499966
Source:frank jackson wzak z1079
16 of 50
17. 14328296412845
Source:frank jackson wzak z1079
17 of 50
18. 14328296314754
Source:frank jackson wzak z1079
18 of 50
19. 14328296192449-e1432837898661
Source:frank jackson wzak z1079
19 of 50
20. 14328296109744
Source:frank jackson wzak z1079
20 of 50
21. 14328296004676
Source:frank jackson wzak z1079
21 of 50
22. 14328295910677
Source:frank jackson wzak z1079
22 of 50
23. 14328295824418
Source:frank jackson wzak z1079
23 of 50
24. 14328295729596
Source:frank jackson wzak z1079
24 of 50
25. 14328295625552
Source:frank jackson wzak z1079
25 of 50
26. 14328295528825
Source:frank jackson wzak z1079
26 of 50
27. 14328295421876
Source:frank jackson wzak z1079
27 of 50
28. 14328295323718
Source:frank jackson wzak z1079
28 of 50
29. 14328295217543
Source:frank jackson wzak z1079
29 of 50
30. 14328295107399
Source:frank jackson wzak z1079
30 of 50
31. 14328295002718
Source:frank jackson wzak z1079
31 of 50
32. 14328294893409
Source:frank jackson wzak z1079
32 of 50
33. 14328294782923
Source:frank jackson wzak z1079
33 of 50
34. 14328294642045
Source:frank jackson wzak z1079
34 of 50
35. 14328294535289
Source:frank jackson wzak z1079
35 of 50
36. 1432829444959
Source:frank jackson wzak z1079
36 of 50
37. 14328294348698
Source:frank jackson wzak z1079
37 of 50
38. 1432829425094
Source:frank jackson wzak z1079
38 of 50
39. 14328294151683
Source:frank jackson wzak z1079
39 of 50
40. 14328294059995
Source:frank jackson wzak z1079
40 of 50
41. 14328293966074
Source:frank jackson wzak z1079
41 of 50
42. 14328293859071
Source:frank jackson wzak z1079
42 of 50
43. 14328293736438
Source:frank jackson wzak z1079
43 of 50
44. 14328293636248
Source:frank jackson wzak z1079
44 of 50
45. 14328293527087
Source:frank jackson wzak z1079
45 of 50
46. 14328293428198
Source:frank jackson wzak z1079
46 of 50
47. 14328293312214
Source:frank jackson wzak z1079
47 of 50
48. 143282932302
Source:frank jackson wzak z1079
48 of 50
49. 1432829310386
Source:frank jackson wzak z1079
49 of 50
50. 14328293011768
Source:frank jackson wzak z1079
50 of 50
Handcuffed Man Punched by Miami Police Captured on Tape  was originally published on wzakcleveland.com